Serial Key Generator
7.0
Key codes on the house
When I read the title "Serial Key Generator", I immediately thought of something that would spare me from buying legitimate software. However, that's not the case. Serial Key Generator is not a cracker of any sort. On the contrary, it is a tool designed to prevent that very thing.
If you have developed an application and wish to distribute it commercially, then you'd probably want some means to make sure that internet freeloaders don't make use of your hard earned work. Of course, you can always take the donation route. Just look at the success GOG.com has with their DRM free games. Still, its your right to protect your intellectual property.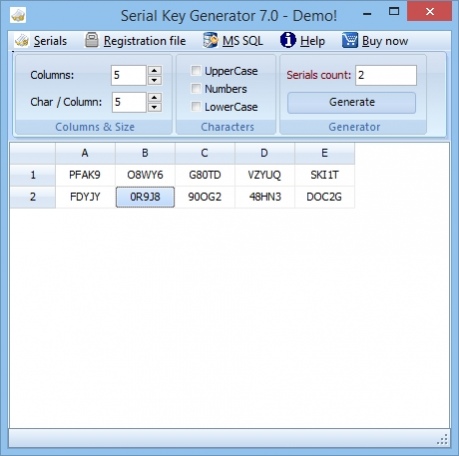 If that's the case, Serial Key Generator can be of help by generating access keys and the also the validation code that verifies them.
To create a batch of keys, you'll want to set their format. You can set the amount of columns and characters. There are checkboxes for numbers, upper and lower case letters. Then simply set the amount of keys (a maximum of 2 in the demo version) and click 'Generate'.
The codes can then be exported as a csv or txt file. You can also create a registration file to be included in your application, for off-line validation. These can be generated in different programming languages such as C#, C++, Delphi or Java and also in a couple of installation scripts (such as NSIS).
Existing registration files can be appended if you run out of entries. the editable ID String that you can name every time is used to create different serial key categories within the same file. For example you can have demo version keys and full version keys in the same registration file.
Features
Custom serial key code generation
Exporting to csv/txt
SQL/Source code query for embedding
Appendable registration file for use in offline registration
Conclusion
Serial Key Generator is quite neat. I don't know if it works in all instances since I'm personally not involved with any software creation team, but it looks like this would shave off a few hours of work on projects that are made i na compatible language.
RELATED PROGRAMS
Our Recommendations
---
---
---
---